FSB in the News
Sometimes our friends in the media decide to cover us. Here are some reviews, interviews and blog features for Fauzia Burke and FSB.
Monday Morning Radio
Meet the Amazing Founder of FSB Associates, Successfully Promoting More Than 2,000 Books

Listen to Fauzia's full interview here.

Publisher's Weekly
Meet the Publicist: Fauzia Burke

Forbes
An Author's Guide To Digital Marketing

800 CEO Reads
Be Bold: Risks and Rewards of Betting On Yourself
Publisher's Weekly
Marketer Turns Author

Fast Company
How To Never Reread The Same Email Ever Again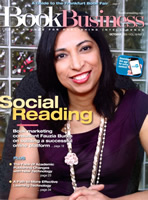 Inc
How to Be Confident at Work Without Appearing Arrogant
Fast Company
The Scheduling Secret That Will Make Your Team More Productive

Minorities in Publishing
Interview with Fauzia Burke

Jane Friedman
How to Save Money and Do Online Book Publicity Yourself

Writer Writer Pants on Fire
Fauzia Burke on Building Your Online Platform & the Author as the Product

Go Publish Yourself: An IngramSpark Podcast
Book Marketing Success Formula with Fauzia Burke

Poets & Writers
The Savvy Self-Publisher

Book Q&As with Deborah Kalb
Interview with Fauzia Burke about Online Marketing
Literary Rambles
Guest Post: 5 Online Marketing Mistakes Authors Can Avoid
Retirement Savvy
Book Review: Online Marketing for Busy Authors
Young Upstarts
Free Yourself From The Email Overload
Writer Unboxed
How to Build an Audience for Your Novel

Writer's Digest
Do I Need A Publicity Firm For My Book?
The Write Life
The Best Time to Start Building Your Author Platform: Right Now
Eric Jacobson on Leadership and Management
Online Marketing for Busy Authors
Digital Book World
3 Facebook Marketing Tools Publishers and Authors Must Use
Book Business Magazine
12 Ways Book Publishers Can Improve Facebook Engagement
Tap Dancing Spiders
Online Marketing for Busy Authors – Book Review
Book Marketing Buzz Blog
Q & A with Book Promoter Fauzia Burke
Margo Kelly
Book Review: ONLINE MARKETING FOR BUSY AUTHORS by Fauzia Burke
Huffington Post - Books
Important Trends and Statistics for Authors
The Writing Coach
The Writing Coach episode 023: Online Marketing for Busy Authors with Fauzia Burke
SCBWI: The Blog
3 tips from Fauzia Burke for marketing our books online
The Author Biz
Podcast Interview: Online Marketing for Busy Authors, with Fauzia Burke
Maria Shriver
To Get the Life You Want You Have to Take Risks
The Writer's Chronicle
The Writer's Chronicle Bookshelf
Fresh Fiction
Online Marketing for Busy Authors
Life Tips Podcast
Online Marketing for Busy Authors: A Step-by-Step Guide
Small Business Trends
Book Review: Refine Vague Book Promotion with "Online Marketing for Busy Authors"
MediaShift
5 Powerful Ways to Write Content That Connects
BookSpin
Online Marketing for Busy Authors
Huffington Post - Books
Busy Authors Guide to Online Marketing
Goodreads
Book Giveaway For Online Marketing for Busy Authors: A Step-By-Step Guide
Mind Body Green
I Was A Refugee. Here Are 4 Of The Most Important Life Lessons From That Experience
Huffington Post
3 Simple Practices That Changed My Life and Can Help You Live More Mindfully
Maria Shriver
6 Tips for Honestly Asking for What You Need
PowerHomeBiz.com
Entrepreneurship, Small and Home Business Books
Bookgirl
Experts Talk: Fauzia Burke, FSB Associates
Huffington Post - Books
Three Steps to Online Branding Success for Authors
Publishers Lunch
Industry News
Galley Cat
Literary Firm FSB Associates Opens West Coast Office
Eric Jacobson On Management And Leadership
Q&A With Fauzia Burke, President Of FSB Associates
Book Business Magazine
Publishers Can Reap Big Rewards from Developing Strong Author Brands
Huffington Post - Books
Digital Branding for Authors: When to Start, What to Do and Why It's Important

Women 2.0
How to Spot the Difference Between Arrogance and Confidence