A Bridge Not Too Far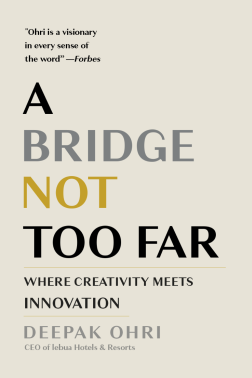 Where Creativity Meets Innovation
By Deepak Ohri
Published by Waterside Productions
"Ohri is a visionary in every sense of the word." —Forbes

Deepak Ohri's childhood home was modest—a one-room flat in a lower middle-class area of New Delhi—but it was filled with love and life lessons. Small luxuries were scarce and savored—a toy car, a cold soda—and awakened Ohri to the possibility of a future filled with abundance.

Now the CEO of lebua Hotels and Resorts, a global collection of five-star hotels and fine restaurants in Thailand, New Zealand, and India, Ohri has launched dozens of successful restaurants and bars and is credited with elevating luxury hospitality in the Asian Pacific. Iebua has been named the World's Leading All-Suite Hotel by World Travel Award, and is rated within the top 1 percent of companies in the world for customer satisfaction.

A Bridge Not Too Far: Where Creativity Meets Innovation explores how Ohri's humble beginnings have fueled his innovative entrepreneurial spirit and have informed his deeply human-centered approach to business and to life.

In an industry where profit is often placed over people, Ohri is committed to compassion, care, and creating powerful emotional connections that can last a lifetime.
$24.95 USD | 978-1957807836