Be the Parent, Please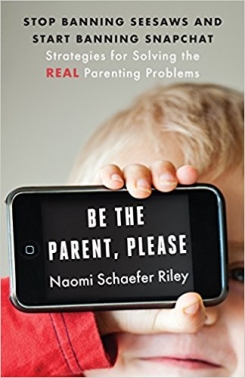 Stop Banning Seesaws and Start Banning Snapchat: Strategies for Solving the Real Parenting Problems
By Naomi Riley
Published by Templeton Press
The tech giants of silicon valley design their products to hook even the most sophisticated adults. Imagine then, the influence these devices have on the developing minds of young people. Touted as tools of the future that kids must master to ensure a job in the new economy, they are in reality the culprits, stealing our children's attention, making them anxious, agitated, and depressed.

What's worse, schools across the country are going digital under the assumption that a tablet with a wi-fi connection is what's lacking in our education system. Add to that the legion of dangers invited by unregulated access to the internet, and it becomes clear that our screen-saturated culture is eroding some of the most important aspects of childhood.

In Be the Parent, Please, former New York Post and Wall Street Journal writer Naomi Schaefer Riley draws from her experience as a mother of three and delves into the latest research on the harmful effects that excessive technology usage has on a child's intellectual, social, and moral formation. Throughout each chapter, she backs up her discussion with "tough mommy tips"—realistic advice for parents who want to take back control from tech.

With the alluring array of gadgets, apps, and utopian promises expanding by the day, engulfing more and more of our lives, Be the Parent, Please is both a wakeup call and an indispensable guide for parents who care about the healthy development of their children.
Hardcover | 9781599474823 | January 8, 2018