Boom!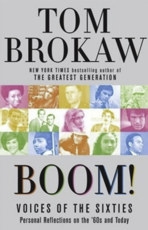 Voices of the Sixties
By Tom Brokaw
Published by Random House
With
The Greatest Generation
, Tom Brokaw defined for America what it meant to come of age during the Great Depression and the Second World War. Now, in
Boom!
, the veteran newsman brings us into the tumultuous decade of the 1960's -- the decade that bred the defiant and daring children of the greatest generation -- to explore how famous people, ordinary citizens, and the national mindset were all affected by an unforgettable time of turbulence and change.
hardcover | 9781400064571 | November 13, 2007