Conceiving with Love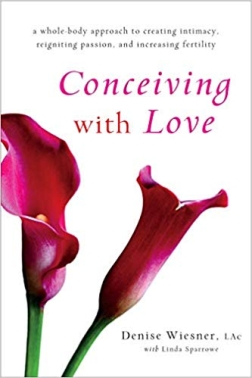 A Whole-Body Approach to Creating Intimacy, Reigniting Passion, and Increasing Fertility
By Denise Wiesner
Supportive, practical advice for couples who are trying to conceive.

Denise Wiesner's integrative East-meets-West approach, developed over twenty years of practice, has helped thousands of couples relax, reconnect, and conceive. The stress of trying to get pregnant can wreak havoc with a couple's intimate relationship—right at a time when that connection is most important—and the frustration and shame couples may feel can have a harmful effect and reduce their chances of conceiving. Wiesner gives couples the tools they need to repair their sexual relationship, rebuild their self-confidence, and reclaim their intimacy and desire. She includes advice from leading experts in Western reproductive medicine and Traditional Chinese Medicine; offers sensual practices from yoga, qigong, and Tantra; and answers questions couples have about sex, intimacy, and both naturally occurring and medically assisted fertility.

Visit the website of Denise Wiesner.
9781611805826 | May 28, 2019