Daddy's Girl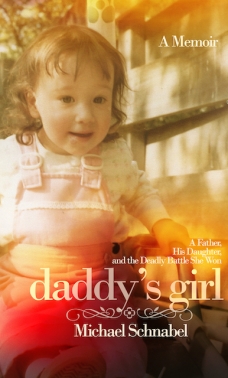 By Michael Schnabel
Published by Armin Lear Press
"A remarkable, hope-filled account of triumphing over a serious illness." — Kirkus Reviews

How does a young mother overcome an 8 percent chance of living to raise her newborn son? She becomes a warrior and provides hope for others. Daddy's Girl is the story of a father, his daughter, and the deadly battle she won.

In each person's life, some events forever change their course. Twenty-seven-year-old Stephanie experienced two of these events in fourteen days; the birth of her only child and the discovery that she has an 8 percent chance of living. The thought haunts her that this baby will only know her through pictures until she makes that thought her motivation to survive.

This is a story of one family facing the most daunting of circumstances: celebration and devastation. Michael Schnabel, Stephanie's father, tells the story of survival and how three generations of a family respond to the crisis. Stephanie's courage is fueled by her son's deep brown eyes and unconditional love. Her faith comes from the belief that something greater than us provides what we need when we need it. Daddy's Girl illuminates a range of emotions and delivers them with humor, love — and some miracles.
Paperback | March 7, 2023