Death Is But a Dream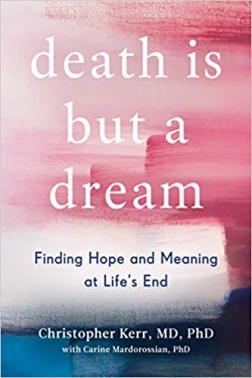 Finding Hope and Meaning at Life's End
By Christopher Kerr
Published by Avery
The first book to validate the meaningful dreams and visions that bring comfort as death nears.

Christopher Kerr is a hospice doctor. All of his patients die. Yet he has cared for thousands of patients who, in the face of death, speak of love and grace. Beyond the physical realities of dying are unseen processes that are remarkably life-affirming. These include dreams that are unlike any regular dream. Described as "more real than real," these end-of-life experiences resurrect past relationships, meaningful events and themes of love and forgiveness; they restore life's meaning and mark the transition from distress to comfort and acceptance.

Drawing on interviews with over 1,400 patients and more than a decade of quantified data, Dr. Kerr reveals that pre-death dreams and visions are extraordinary occurrences that humanize the dying process. He shares how his patients' stories point to death as not solely about the end of life, but as the final chapter of humanity's transcendence. Kerr's book also illuminates the benefits of these phenomena for the bereaved, who find solace in seeing their loved ones pass with a sense of calm closure.

Beautifully written, with astonishing real-life characters and stories, this book is at its heart a celebration of our power to reclaim the dying process as a deeply meaningful one. Death Is But a Dream is an important contribution to our understanding of medicine's and humanity's greatest mystery.
Reviews
"Based on deep experience, this loving, emotionally wise book will help many people find the path to love, acceptance and meaning as they face life's end.
—
Katy Butler
, author of
Knocking on Heaven's Door
and
The Art of Dying Well
"Remembering the revealing end-of-life experiences my own father had, I was fascinated by this book. It treats an area of medical ignorance and societal naiveté. Whether you have a loved one nearing the end, or are contemplating what may lie beyond this life, you'll find that Dr. Kerr's book brings meaning and even beauty to our final stage. I recommend it highly for anyone with a finite lifespan."
—
Dale Bredesen
, MD, author of the
New York Times
bestseller,
The End of Alzheimer's
"A beautiful portrait of the human capacity for transcendence at the end of life. This book will inspire you reflect on the love and meaning you have experienced in your own life, and help you listen to, and be with, those nearing the end of their lives."
— Kelly McGonigal
, PhD, author of
The Joy of Movement
"Reflections on death are not new. Yet, so many wish to separate death from life forgetting that death, in fact, is part of life. This reality is shared with us by a hospice physician who, himself, learned so much from the dying. And what did he learn? That by being truly present with those who are dying, one learns how to live."
— James Doty
, MD, author of
Into the Magic Shop
"In this fascinating book, we meet the dying whose dreams, both sad and sweet, are powerful, beautiful medicine for the soul; theirs and ours."
— Steve Leder
, author of
More Beautiful Than Before; How Suffering Transforms Us
Hardcover | 256 pages | 5.5 x 0.6 x 8.2 inches | 978-0525542841 | February 11, 2020