Family in Six Tones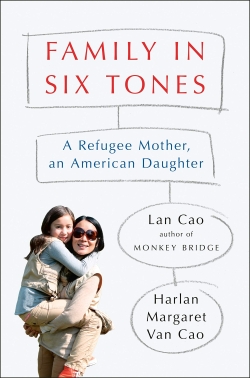 A Refugee Mother, an American Daughter
By Lan Cao
Published by Viking
Harlan Margaret Van Cao, Co-Author

A dual first-person memoir by the acclaimed Vietnamese-American novelist and her thoroughly American teenage daughter--exploring their complicated relationship and touching on war and past tragedy, culture clash and bullying, and growing up both as individuals and as a family.

After more than forty years in the United States, Lan Cao still feels tentative about her place in her adoptive country, one which she came to as a thirteen-year old refugee. And after sixteen years of being a mother, she still ventures through motherhood as if it is a foreign landscape. In this lyrical memoir, Lan explores these two defining experiences of her life with the help of her fierce, independently-minded daughter, Harlan Margaret Van Cao

In short chapters that both reflect and refract her mother's narrative, Harlan describes the rites of passage of childhood and adolescence, as they are filtered through the aftereffects of her family's history of war and migration. Lan responds in turn, revealing her struggles to understand her American daughter. In this unique format of alternating storytelling, their complicated mother-daughter relationship begins to crystallize. Lan's struggles with the traumatic aftermath of war--punctuated by emotional, detailed flashbacks to her childhood--become operatic and fantastical interludes as told by her daughter. Harlan's struggle to make friends in high school challenges her mother to step back and let her daughter find her own way.

Family in Six Tones is at once special and universal, speaking to the unique struggles of refugees as well as the universal tug-of-war between mothers and daughters. The journey of a refugee--away from war and loss towards peace and a new life--and the journey of a mother raising a child--to be secure and happy--are both steep paths filled with detours and stumbling blocks. Through explosive fights and painful setbacks, mother and daughter search for a way to accept the past and face the future together.

Visit Lan Cao's website.
Hardcover | 320 pages | 6 x 0.8 x 9 inches | 978-1984878168 | September 15, 2020