Firewall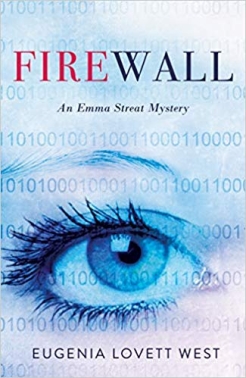 A Novel
Emma Streat Mystery Series
Book 3
By Eugenia Lovett West
Published by SparkPress
Former opera singer Emma Streat has survived the murder of her husband and the destruction of her beautiful old house. Now a full-time single mother, she struggles to move forward and make a home for her two sons. Because of her detection skills, she has become a go-to person for help―so, when her rich, feisty, socialite godmother is blackmailed, she turns immediately to Emma.

Soon, Emma founds herself thrust into the dark world of cybercrime. Mounting challenges take her to exclusive European settings where she mixes with top people in the financial and art collecting worlds and has intriguing and emotion-packed experiences with men―including her dynamic ex-lover, Lord Andrew Rodale. When she is targeted by a cybercrime network using cutting-edge technology, it takes all of Emma's resilience and wits to survive and bring the wily, ruthless criminal she's hunting to justice.

Action-packed and full of twists and turns, this third book of the Emma Streat Mystery series does not disappoint!

Visit the website of Eugenia Lovett West.
9781684630103 | November 5, 2019