Happy Money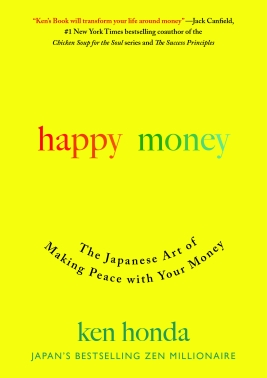 The Japanese Art of Making Peace with Your Money
By Ken Honda
Published by Gallery Books
What Marie Kondo's The Life-Changing Magic of Tidying Up did for your living space, Ken Honda's Happy Money will do for your wallet.

Ken Honda—Japan's #1 bestselling personal development guru—knows that getting rich quick is no way to achieve happiness. Too often, money is a source of fear, stress, and anger, often breaking apart relationships and even ruining lives. We like to think money is just a number or a piece of paper, but it is so much more than that. Money has the ability to smile, it changes when it is given with a certain feeling, and the energy with which it imbues us impacts not only ourselves, but others as well.

Learn how to change your relationship with money by treating it as a welcome guest - allowing it to come and go with respect without questioning its motives or resenting its fluctuations. Understand and improve your Money EQ, look behind the myth of scarcity, and embrace the process of giving money along with receiving it.
hardcover | 9781501188374 | June 4, 2019