Lions of the Sky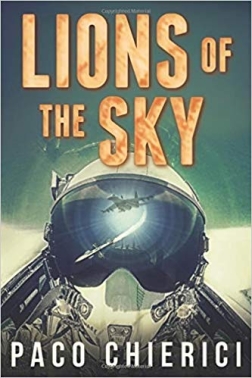 The Top Gun for the New Millennium
By Paco Chierici
Published by Braveship Books
In the world of fighter pilots, the most alpha of the alpha, competition is everything and the stakes are impossibly high. A Top Gun for the new millennium, Lions of the Sky propels us into a realm in which friendship, loyalty, and skill are tested, battles won and lost in an instant, and lives irrevocably changed in the time it takes to plug in your afterburners.

Sam Richardson is a fighter pilot's pilot, a reluctant legend with a gut-eating secret. He is in the last span of his tour as an instructor, yearning to get back to the real action of the Fleet, when he is ordered to take on one last class—a class that will force him to confront his carefully quarantined demons.

Brash, carefree, and naturally gifted, Keely Silvers is the embodiment of all that grates on him. After years of single-minded dedication, she and her classmates can see the finish line. They are months away from achieving their life-long dream, flying Navy F/A-18 fighters. They are smart and hard-working, but they're just kids with expensive new toys. They're eager to rush through training and escape to the freedom of the world beyond, a world they view as a playground full of fast jets and exotic locales.

But Sam knows there is a darker side to the profession he loves. There is trouble brewing in the East with global implications. If they make it past him they will be cast into a dangerous world where enemy planes cruise the skies over the South China Sea like sharks, loaded with real weapons and hidden intentions.

Visit the website of Paco Chierici.
Paperback | 978-1640620728 | April 9, 2019