LL Cool J's Platinum Workout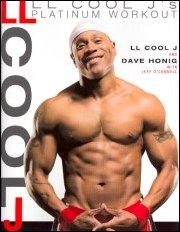 By LL Cool J
Published by Rodale
While it may seem impossible to imagine,
LL Cool J didn't always have a diesel body -- he chiseled it the old-fashioned way, with hard work and discipline. Together with his longtime trainer, Dave "Scooter" Honig, LL developed a revolutionary workout system that not only burns away body fat for good but also built the amazing muscle and flawless physique you see in every one of his latest music videos.
In
LL Cool J's Platinum Workout,
LL lets you in on the secrets of his transformation with his uniquely creative, yet no-nonsense regimen -- enlivened with humor and sheer force of personality -- he will inspire you to enjoy working out as never before, while building a body you never thought possible. LL Cool J and Scooter Honig blend standard free-weight lifts, plyometrics, fighters' moves, calisthenics, endurance training, and much more to create what they call their "combination platter" -- a highly effective, dynamic, and diversified total-body workout. Whether you are just starting a program or looking to get to the next level, you can choose from four levels of fitness, from Bronze to Platinum, including:
The Bronze Body: A 4-week beginners' program that will take inches off your waist and boost your energy.
The Silver Body: A 5-week program for intermediates that increases strength while also maintaining muscular and cardiovascular endurance.
The Gold Body: An advanced 9-week program that turns the body into a muscle-building and fat-burning machine -- complete with six-pack abs and as much energy as LL Cool J.
The Platinum Body: A hard-core 3-week fat-torching program LL used for the "Control Myself" video -- a new level in ripped-to-the-bone fitness and sex appeal.
Plus, The Diamond Body: A special 4-week program for women who want to shape up fast for summer or a special event.
Jam-packed with photos of LL demonstrating the exercises and complete with meal plans and recipes that will fuel your workouts while promoting fat loss, LL Cool J's Platinum Workout will transform your body and the way you think about exercise -- for life.
hardcover | 9781594866081 | December 12, 2006