Love Worth Making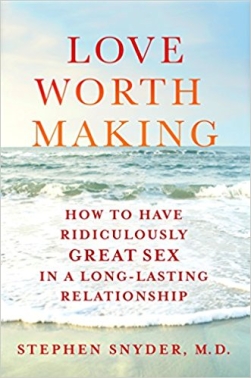 How to Have Ridiculously Great Sex in a Long-Lasting Relationship
By Stephen Snyder
Published by St. Martin's Press
The next Mating in Captivity, this is a paradigm-shifting guide to thinking about and enjoying sex and intimacy in committed, long-term relationships, from one of the nation's top sex therapists.
These are astonishing times for sex. With a click of the mouse you can learn the names for sex acts your grandparents never knew existed. But are people any happier in bed? Probably not. Research from the Kinsey Institute suggests that 25% of American women in heterosexual relationships are markedly distressed about their sex lives.
There's no shortage of books these days on sex technique. But that's not what most people are interested in. What they really want is to have great sex in a committed relationship, in which case all the technical expertise in the world won't help you very much. For that, you need to understand sexual feelings—"how they operate, what rules they follow, and how they connect to the rest of who you are.
Dr. Stephen Snyder's unique approach has helped over 1,500 individuals and couples master the erotic challenges of long-term relationships. Integrating the latest research on human sexuality with compelling stories from his 30 years of experience working with over 1,500 individuals and couples, Love Worth Making will help people of all ages and backgrounds master the erotic challenges of long-term relationships, understand their sexual feelings, and enjoy them for life.
Hardcover | 9781250113115 | February 13, 2018