Off the Grid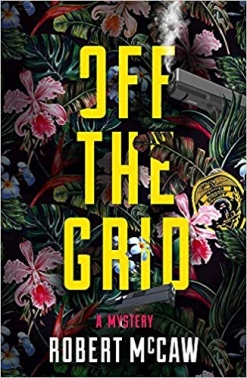 By Robert B. McCaw
Published by Oceanview Publishing
A scrap of cloth fluttering in the wind leads Hilo police Chief Detective Koa Kāne to the tortured remains of an unfortunate soul left to burn in the path of an advancing lava flow. For Koa, it's the second gruesome homicide of the day, and he soon discovers the murders are linked. These grisly crimes on Hawaiʻi's Big Island could rewrite history―or cost Chief Detective Koa Kāne his career.
The dead, a reclusive couple living off the grid, turn out to be mysterious fugitives. The CIA, the Chinese government, and the Defense Intelligence Agency, attempt to thwart Koa's investigation and obscure the victims' true identities. Undeterred by mounting political pressure, Koa pursues the truth only to find himself drawn into a web of international intrigue.
While Koa investigates, the Big Island scrambles to prepare for the biggest and most explosive political rally in its history. Despite police resources stretched to the breaking point, Koa uncovers a government conspiracy so shocking its exposure topples senior officials far beyond Hawaiʻi's shores.

Visit the website of Robert McCaw.
hardcover | 9781608093618 | July 2, 2019