The Encyclopedia of Commercial Real Estate Advice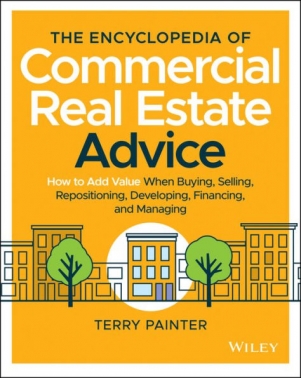 How to Add Value When Buying, Selling, Repositioning, Developing, Financing, and Managing
By Terry Painter
Published by Wiley
The first Encyclopedia of Commercial Real Estate
The Encyclopedia of Commercial Real Estate Advice
covers everything anyone would ever need to know from A – Z on the subject. The 500+ entries inside not only have hard-hitting advice, but many share enlightening stories from the author's experience working on hundreds of deals. This book pulls off making the subjects enjoyable, interesting, and easy to understand. As a bonus, there are 136 time and money savings tips, many of which could save or make you 6 figures or more.
Some of the questions this informative guidebook will answer for you are:
How to Buy Foreclosed Commercial Properties at a Discount at Auctions
Guidelines for Getting Started in Commercial Real Estate and Choosing Low-Risk Properties
How to Value a Property in 15 Minutes
How to Fake it Until You Make it When Raising Investors
Should You Hold, Sell, 1031 Exchange, or Cash-Out Refinance?
How to Reposition a Property to Achieve its Highest Value when Buying or Selling
10 Tested Methods to Recession-Proof Your Property
How You Can Soar To The Top by Becoming a Developer
Trade Secrets for Getting The Best Rate and Terms on Your Loan – Revealed!
11 Ways Property Managers Will Try and Steal From You - How to Catch and Stop Them!
Whenever you have a question on any commercial real estate subject, just open this invaluable book and get the guidance you are looking for.
Hardcover | 528 pages | $49.00 USD | 7.7 x 1.7 x 9.4 inches | 978-1119629115 | October 13, 2020