The Forever Transaction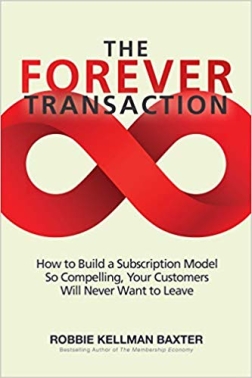 How to Build a Subscription Model So Compelling, Your Customers Will Never Want to Leave
By Robbie Kellman Baxter
Published by McGraw-Hill Education
Moving to a Subscription Business Model Can Be Hugely Lucrative―But Also Quite Risky. Bestselling Author Robbie Baxter Offers a Step-by-Step Blueprint to Improve Your Odds of Success
Everyone wants to build a business based on the long-term relationship with the customer, but few businesses know exactly how to do it. In The Forever Transaction, Robbie Kellman Baxter tells you how to make the vision a reality. Whether you call it membership, subscription, or true customer-centricity, The Forever Transaction is the handbook you need for making it happen.
Inside, you'll receive not just the inspiration, but also the tools and insight you need to take action in your own business, no matter what industry you're in. Baxter has unparalleled breadth of knowledge, working with a huge range of organizations in charting their strategies to 'forever' relationships. Here she identifies and shares her experiences, along with actionable steps for success.
Yes, starting a subscription business is inherently risky, especially if you're an established company built on a transactional model. It requires transformation in every area of your business. But more and more companies are realizing that the potential rewards outweigh potential downfalls. Perhaps yours is one of them. And as long as you know the lay of the land starting out, you can make the right decision for you and go on to achieve long term success.
The Forever Transaction reveals how companies like Under Armour, Microsoft, and Netflix have managed to build a growing customer base of loyal subscribers―and keep them coming back. It takes you through every step of the process―from initial start-up to new product testing to scaling the operation for long-term growth and sustainability to revamping your culture so that everyone works together to optimize customer lifetime value. It covers all the essentials like subscription pricing, Software-as-a-Service, digital community engagement, and freemium incentives as a way to turn casual browsers into cash-paying superusers.
The Forever Transaction also features first-hand insights into subscription superstars like Amazon, eBay, and Target. Most importantly, it shows you how to build lasting relationships with your customers that are the very foundation of business success―today, tomorrow, and forever.
256 pages | $28.00 USD | 978-1260458701 | March 31, 2020