The Opposite of Loneliness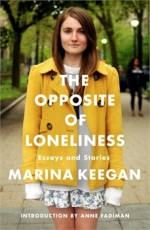 Essays and Stories
By Marina Keegan
Published by Scribner
Anne Fadiman, Co-author

An affecting and hope-filled posthumous collection of essays and stories from the talented young Yale graduate whose title essay captured the world's attention in 2012 and turned her into an icon for her generation.
Marina Keegan's star was on the rise when she graduated magna cum laude from Yale in May 2012. She had a play that was to be produced at the New York International Fringe Festival and a job waiting for her at The New Yorker. Tragically, five days after graduation, Marina died in a car crash.
As her family, friends, and classmates, deep in grief, joined to create a memorial service for Marina, her unforgettable last essay for The Yale Daily News, "The Opposite of Loneliness"
Hardcover | 9781476753614