The Perfect Pass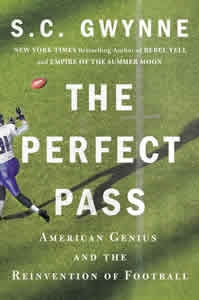 American Genius and the Reinvention of Football
By S.C. Gwynne
Published by Scribner
New York Times bestselling, award-winning historian S.C. Gwynne tells the incredible story of how Hal Mumme and Mike Leach—two unknown coaches who revolutionized American football in the 1980s, 1990s and 2000s—changed the way the game is played at every level, from high school to the NFL.
Hal Mumme is one of a handful of authentic offensive geniuses in the history of American football. In 2015 ESPN Magazine, the nation's leading sports magazine, called him the single most influential football coach in the last quarter century.
Mumme spent fourteen mostly losing seasons coaching football before inventing a potent passing offense strategy that would revolutionize the game. That transformation began at a tiny college called Iowa Wesleyan, where Mumme was head coach and Mike Leach his assistant. It was there that Mumme invented the purest and most extreme passing game in the 145-year history of football, where his quarterback once completed 61 of 86 passes (both national records). His teams played blazingly fast—faster than any team ever had before. They rarely punted on a fourth down, and routinely beat teams with ten or twenty times Iowa Wesleyan's students. Mumme did it all with average athletes and without even a playbook.
In The Perfect Pass, S.C. Gwynne explores Mumme's genius and the stunning performance of his teams, as well as his leading role in changing football from a run-dominated sport to a pass-dominated sport. He also shares the history of a moment in American football when the game changed fundamentally and transformed itself into what tens of millions of Americans now watch on television every weekend. Whether you're a casual or ravenous football fan, this is a truly compelling story of American ingenuity, innovation, and how a set of revolutionary ideas made their way into the mainstream of sports culture that we celebrate today.
Hardcover | 9781501116193 | September 5, 2017