The Tao of Inner Peace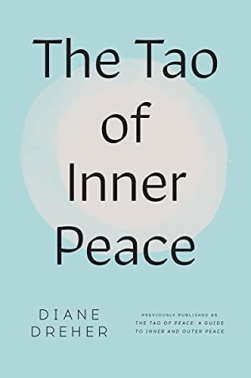 By Diane Dreher
Published by Plume
With its lively, demystifying approach, The Tao of Inner Peace shows how the Tao can be a powerful and calming source of growth, inspiration, and well-being in times of conflict and anxiety.

Translated more often than any other book except the Bible, the Tao Te Ching has been a spiritual guide for centuries, helping millions find peace within themselves, with each other, and with the natural world around them. Written in workbook style, complete with exercises, questionnaires, journal-keeping techniques, and affirmations, The Tao of Inner Peace translates the ancient Eastern philosophy into a plan for contemporary Western living. Diane Dreher, Ph.D., shows the way to:

• Bring greater joy, fulfillment, and creativity to daily life
• Heal the body and spirit
• Build self-acceptance and self-esteem
• Resolve conflict
• Reverse negative cycles of emotion
• Understand life as a process of changes and challenges

An essential handbook for mental wellness, The Tao of Inner Peace adapts the principles of Tao to today's world, showing us how to integrate the many facets of our everyday lives to create a balanced, dynamic, harmonious whole.
Paperback | 336 pages | $18.00 USD | 978-0452281998 | September 7, 2021