The Wilkes Insurrection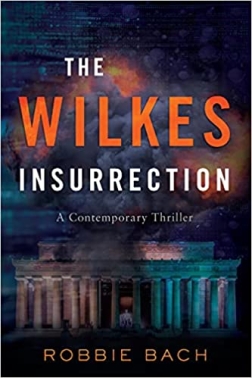 A Contemporary Thriller
By Robert Bach
Published by Greenleaf Book Group Press
An elusive extremist hell-bent on destroying America.
A woman of uncommon valor haunted by her tragic past.
A dark web hacker confronting his conscience.
A failed intelligence officer in search of redemption.
Just outside Omaha, Nebraska, the relative calm at Offutt Air Force Base is suddenly shattered when commercial Flight 209 crashes down onto its runway. From the flaming wreckage, Major Tamika Smith must try to rescue survivors and make sense of the tragedy. But this was no accident. In a time of national unrest and division, a shadowy mastermind is tearing down the United States from the inside out, moving pawns in an orchestrated plan and playing law enforcement like puppets. The deadly attacks continue and authorities have no leads. Barely any clues. Trails that start hot suddenly go cold. With thousands dying and the strikes becoming increasingly personal, Major Tamika Smith must answer a fundamental question: How far would you go to save what you love?
With heart-pounding action, compelling plot twists, and a rich tapestry of characters, The Wilkes Insurrection is a contemporary thriller of anarchic obsession and heroic ambition. Its perfect blend of callous villains, complex but captivating protagonists, and political intrigue will keep readers on the edge of their seats.
Robbie Bach is best known for founding and leading the team that created the Xbox. Today he is an entertaining storyteller and catalyzing voice who writes books and speaks to audiences on leadership, creativity, strategy, and civic issues.
On social media:
LinkedIn: @robbiebach
Instagram: @robbiejbach
Facebook: @robbiebach61
Twitter: @Robbie_Bach
For more information, go to robbiebach.com
Hardcover | 358 pages | $24.95 USD | 978-1626348882 | November 2, 2021