Where Do You Hang Your Hammock?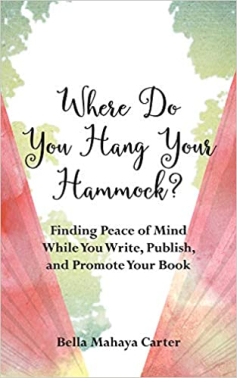 Finding Peace of Mind While You Write, Publish, and Promote Your Book
By Bella Mahaya Carter
Published by She Writes Press
In Where Do You Hang Your Hammock? seasoned coach and author Bella Mahaya Carter shows writers how to use their present circumstances as stepping-stones to a successful and meaningful writing life, navigated from the inside out. It encourages writers and authors to rethink their ambitions (which may be fueled by the tyrannical demands of the ego) and trust in their heartfelt purpose and values in the journey to becoming, or continuing on, as authors. Many writers believe their self-sabotaging thoughts are trustworthy and true. They take rejection personally. They surmise that if they don't achieve their goals they have failed, and lose sight of who they are and what matters most. This book is for writers looking for inspiration and for authors daunted by the publishing process, who might lack the requisite author platform to get published the way they dreamed, or whose careers may not be unfolding as expected. It aims to be the friend and trusted expert writers turn to when hijacked by their own thinking. Ultimately, it reminds authors that they are infinite creators.
Paperback | 256 pages | $16.95 USD | 978-1647420659 | June 1, 2021